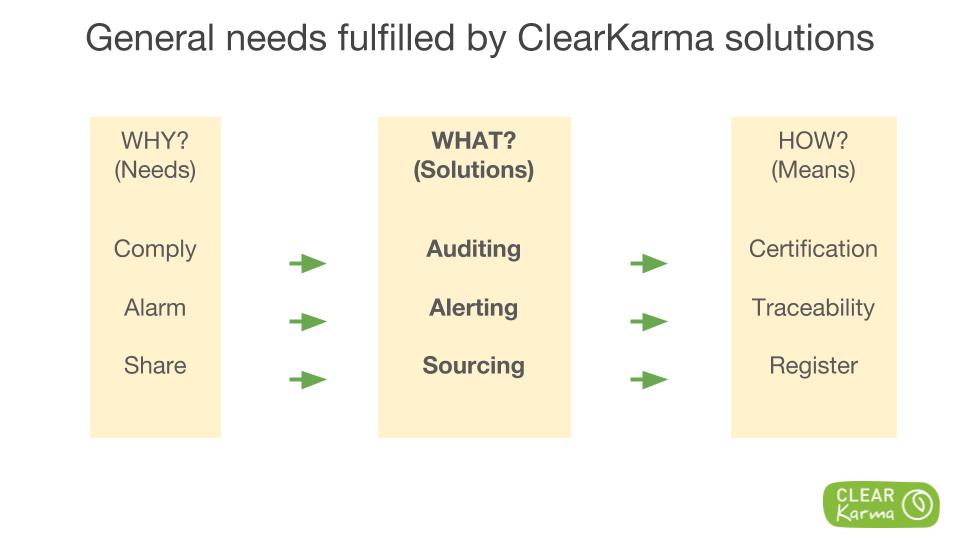 OUR SOLUTIONS GO FROM HELPING YOU COMPLY WITH THE EU 1169 UNTIL END TO END TRACEABILITY. WE FOCUS ON THREE MAIN SOLUTIONS: AUDITING, ALERTING AND SOURCING.
Auditing: CK Certify & Comply - Solution for food certifications and avoiding mislabeling. Our auditing solution helps food businesses to create compliant food labeling in order to comply with the EU 1169/2011 regulation making a declaration of 14 main allergens mandatory, a real challenge for food businesses and restaurants in particular.
Alerting: CK Trace & Alarm - Solution for Food Safety & against Food Fraud. Alerting means keeping food businesses and consumers updated in case of food recalls happening on a daily basis due errors in food labeling, food fraud or due to food safety issues. The ClearKarma traceability and alert system can help faster reaction and communication of foodborne risks, ad therefor helps protect consumers and companies' reputation during times of food scares which can also affect businesses in the entire industry even if they are not involved in the fraudulent or contaminated food recalls.
Sourcing: CK Register & Share - Solution for Sustainable Diets and against Malnutrition. Our sourcing solution is the essence of ClearKarma's to manage and give access in one place to trusted and validated food information. Keeping this central global register of food information is a big challenge which our team is enthusiastic to tackle. Our solutions make it easy to share/explain relevant information about food content, origin and production process, to make healthier ad more sustainable food choices, which could for example help avoid food waste through intelligent planning and recipes to avoid but also reuse leftovers.